WELCOME TO THE OLD RECTORY
Guest House
The Old Rectory Guesthouse;
The Old Rectory Guesthouse, originally a Church of Ireland rectory, was built in 1896 to house the rector of St John's, Malone and has been a family run business for over 24 years. Our comfortable Victorian property, is situated in leafy South Belfast, close to all transport links, with complimentary on-site car parking.  We are 4 star Northern Ireland Tourist Board accredited.
It is an 8-10 minute walk to the US Consulate and 8-10 minutes by bus to the city centre.
In the cooler months, September to March – we serve guests a complimentary hot Irish whiskey at 7.30pm in the drawing room.
We are closed from 4-17 July 2017 and Christmas & New Year 2017/2018
Book Now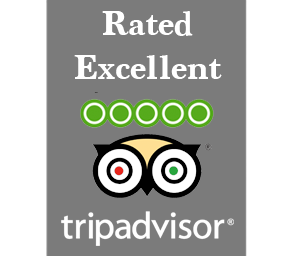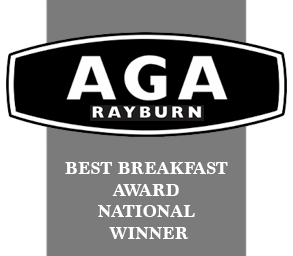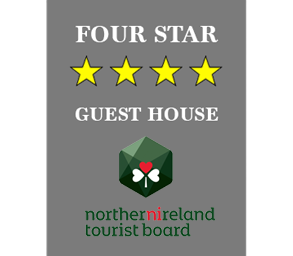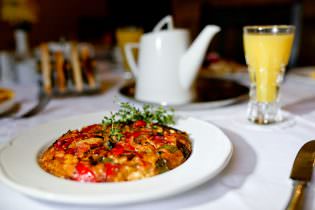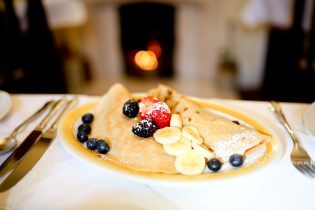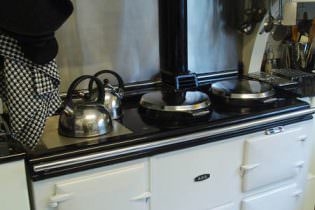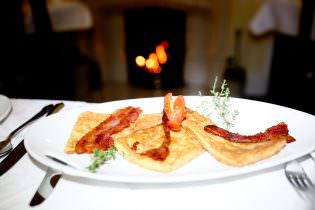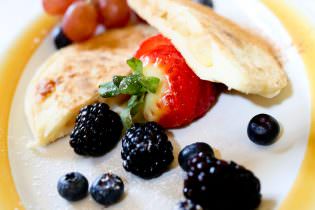 Award Winning Breakfast
One of the owners, a professional Swiss trained chef, is the winner of Aga-Rayburn National Best Breakfast Award, the judges stating "Old Rectory's breakfast was quite simply the best in Northern Ireland".
We offer freshly squeezed orange juice, freshly cut fruit and our own home-made granola and muesli. Our extensive menu also includes vegetarian/vegan/gluten free/ lactose free options.
Our guesthouse uses local and organically produced foods, where possible; we also make our own raspberry jam, whiskey marmalade, wheaten, soda and potato breads, bagels, pancetta scones and potato and apple fadge (potato bread).
View Menu
Customers Breakfast Reviews
From Our Trip Advisor Page
WarnBren, Dublin, May 2017

The breakfast, especially the Ulster fry is just outstanding
Sarah C, Gorey, May 2017

The breakfast is superb, with their own homemade granola followed by scrambled eggs, with smoked salmon. They even had a small lemon juice squeezer, all presented so elegantly
AnnaJohnWin, California, April 2017

The options for breakfast are amazing, and on our last day, since we had to leave so early, they packed us a breakfast to go, which was very much appreciated.
Ksogren, Colorado, March 2017

The homemade breakfast choices feel like a 5* restaurant.
TA member, USA, March 2017

The menu is very extensive for a B&B, the jam is homemade and so is the granola. Every morning we tried something different and every time it was perfect.
Kbw2017, Wisconsin, February 2017

Breakfast was delicious – they have an extensive menu (you choose the night before), including good vegetarian options.
Tonyjday, UK, January 2017

What could be nicer than eating a breakfast consisting of freshly squeezed orange juice, porridge laced with whiskey, followed by an Ulster Fry and then toast with home made marmalade, while logs crackle on an open fire?
Dr_Bek_Oz, Brisbane, December 2016

The breakfast is truly awesome with about 15 different options on the menu - I loved the scrambled eggs with salmon and my husband enjoyed porridge with honey and Irish whiskey.
Jaaz1, Alnwick, UK, August 2017

The breakfast menu is extensive and you are requested to make your selections the night before, in order to accommodate the plethora of choices; something to look forward to as you slumber peacefully in one of the delightful rooms.
JuliaTizzard, Ilford, UK, August 2017

The breakfasts are amazing, with a lovely range of options.
MazRimmer, Southport, UK, October 2017

The breakfast options were all delicious, perfectly cooked and set you up for the day. Try the homemade potato cakes and the smoked salmon & scrambled eggs on wheaten bread.
Calumm33, Inverness, UK, July 2017

The crowning glory of our stay was the breakfast. Freshly made, each morning to an order made the previous evening, with fresh fruit salad, the usual cereals, freshly made orange juice and the breakfast itself should satisfy any taste. It certainly met with our approval and added a few pounds to the waistline.
Amenities
Guests at Old Rectory Guesthouse can benefit from:
Free wifi
Free off-street car parking
Close proximity to US Consulate/American Embassy
Queen's University & Stranmillis University College
Kings Hall Exhibition & Conference Centre
Supper menu
Flat screen televisions in all rooms
All rooms have ensuite or private bathrooms
Daily local newspapers
Books and magazines in rooms
Toiletries
Hairdryer
Iron Available
Alarm/clock radio
Concierge service for information and tour/restaurant bookings providing recommendations and tips
Tea/coffee/hot chocolate & biscuits in room
Jugs of fresh milk and carafes of chilled filtered water
Our Bespoke Rooms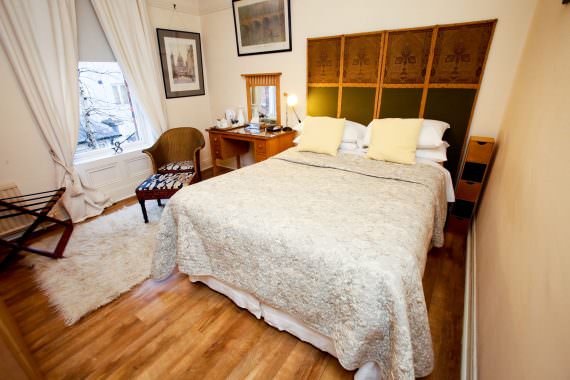 Deramore
Nearby Deramore Park, which in Irish is Pairc Dhoire Mor, means the Great Oak Wood.
Double Bed
55 - Single
87 - Double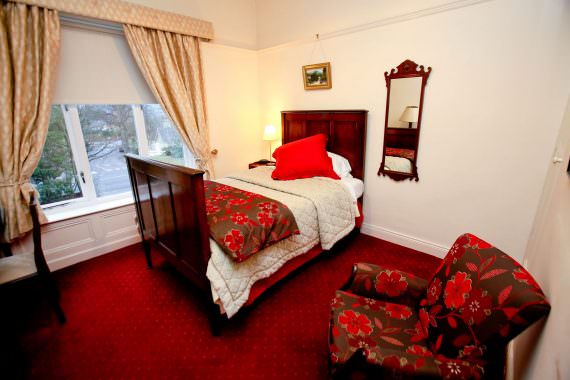 Maryville
Nearby Maryville Park, was where the Wilson family had a small estate called Maryville. Tradition says it was at Cranmore, beside Maryville, that King William rested when on his was to Belfast in 1690 and the tree where his horse was tied is still to be seen.
Single Bed
£55 - Single
Private Bathroom